组委会成员
委员会信息
Dr. Libiao Bai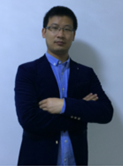 Country/Region:China
University: Chang An university
Brief introduction of research:
Since 2010, Dr. Libiao Bai joined the research team to start my research work and participated in someresearch projects, which are about how to manage Project Portfolio, the projectcomplexity's influences on cost, evolutionary mechanism and control modeling oftime and cost optimization base on the theory of Ant Colony Algorithm,Particle SwarmOptimization andGenetic Algorithm. The projects I have participated inare shown as follows:
[1] Organizational project management maturitymodel in China based on C-PMBOK .
[2] Project Portfolio Management and itsOptimization Model Study based on Organization's Strategic
Orientation.
[3] Shaanxi Aero Enterprise Operation Mode basedon Project Management Innovation
[4] Project Portfolio Management Progress Cycle IntegratedOptimization study based on DSM.

AEIC学术交流中心 版权所有
邮箱: contact@keoaeic.org 制作单位:AEIC学术交流中心 快递查询接口
Copyright©2009-2018 All rights reserved 粤ICP备16087321号-1