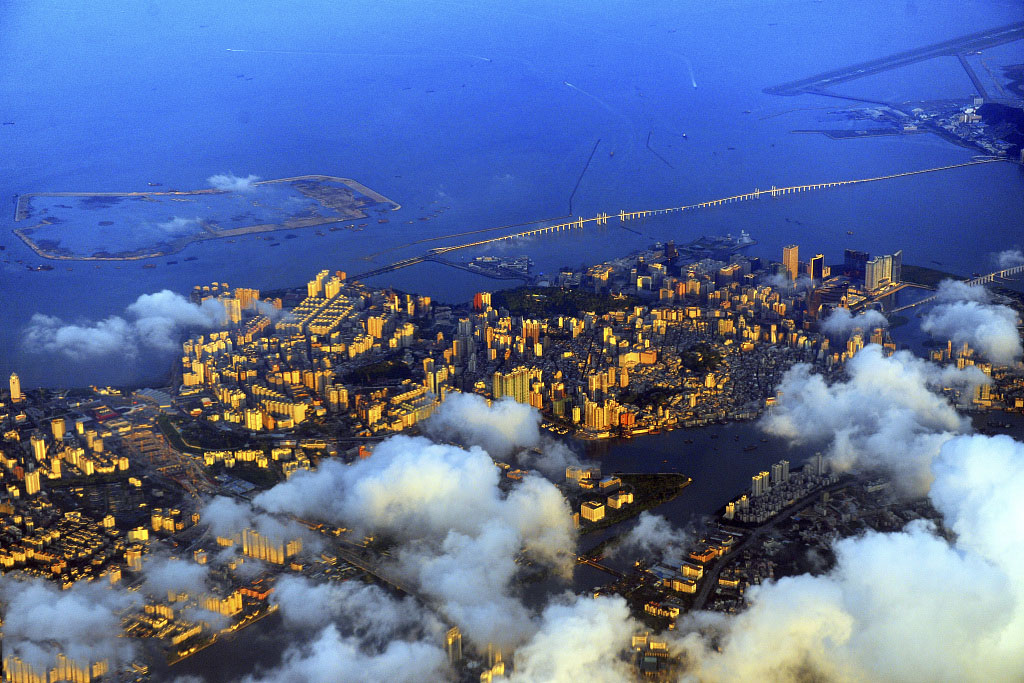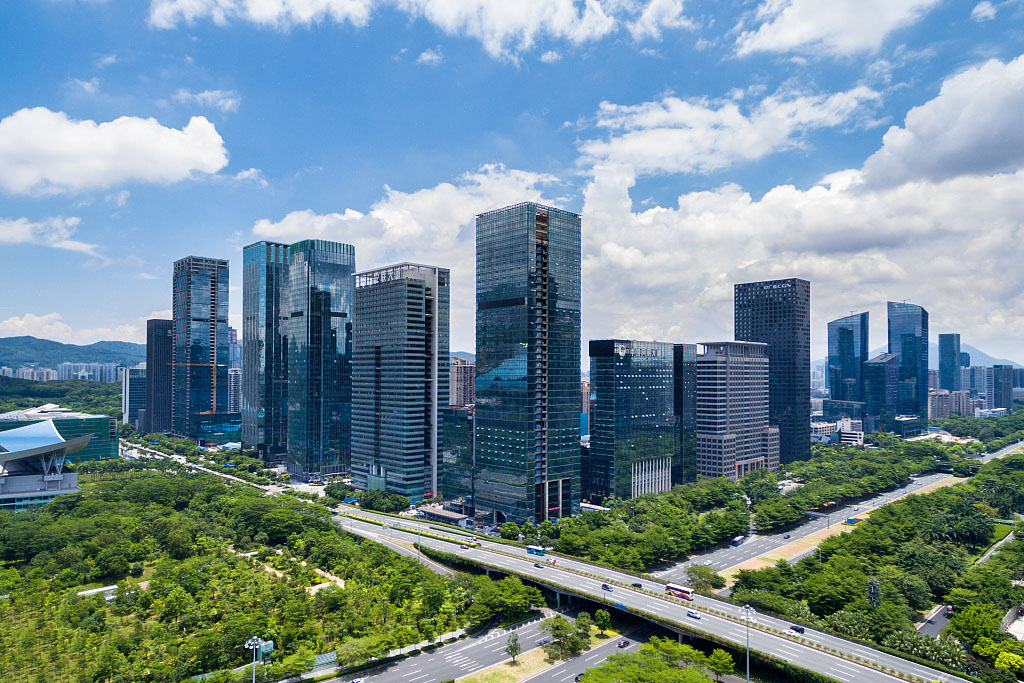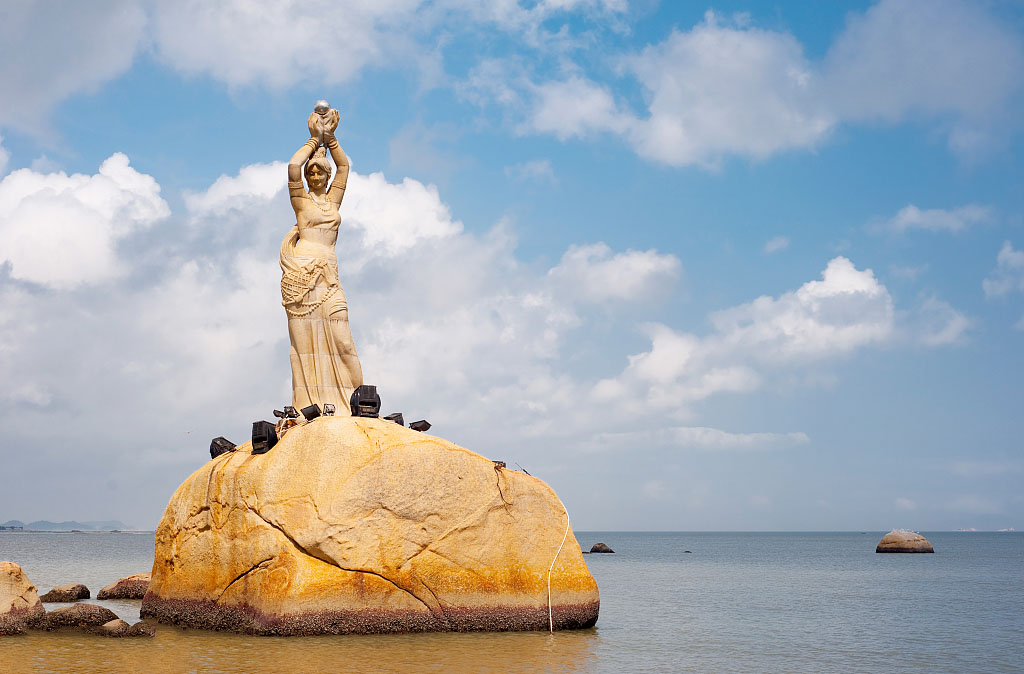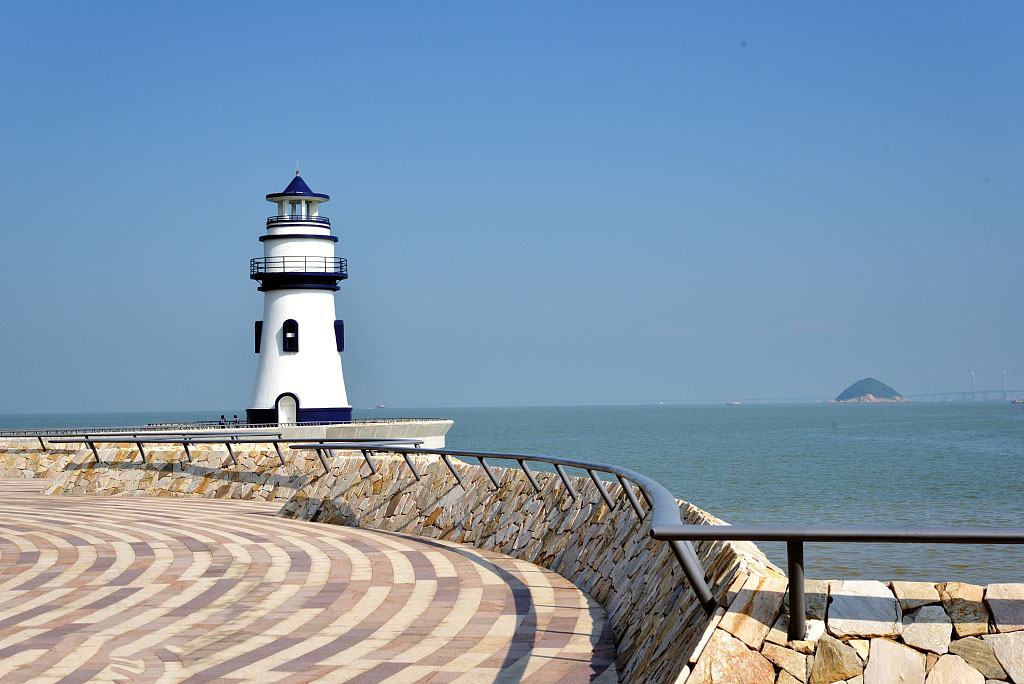 The core of Zhuhai in the northeastern portion of the administrative division, is part of the Guangzhou-Shenzhen built-up area on the mouth of the river delta, the biggest built-up area in the world with more than 44,478,513 inhabitants at the 2010 census, encompassing Shenzhen, Dongguan, Foshan, Zhongshan, Macao, main part of Guangzhou, and small parts of Jiangmen and Huizhou cities.
According to a report released in 2014 by the Chinese Academy of Social Sciences, Zhuhai is the most livable city in China.
Geography
Zhuhai borders the Macau Special Administrative Region (north and west), and is 140 kilometres (87 miles) southwest of Guangzhou. Its territory includes 146 islands and a coastline of 690 kilometres (429 miles).
The islands within the prefecture-level city of Zhuhai include a number of near-shore islands, often connected to the mainland by bridges or causeways (such as Hengqin, Qi'ao, or Yeli Islands), as well as some islands in the open South China Sea (the Wanshan Archipelago). Some of the latter are actually geographically closer to Hong Kong than to the Zhuhai mainland. The jurisdiction of Nei Lingding Island, located in the Pearl River estuary was transferred from Zhuhai to Shenzhen in 2009.
Zhuhai has a humid subtropical climate affected by the East Asian Monsoon (Koppen classification Cwa) and moderated by the South China Sea, with long, hot and humid summers with frequent thunderstorms, and short, mild and dry winters. Average highs in January and July are 18 and 32 °C (64 and 90 °F) respectively. It never snows and a frost has never been recorded in the city centre. Conversely, extreme heat waves do not occur as they do further inland.
Economy
Zhuhai became a city in 1979, a year before it was designated as one of the first Special Economic Zones of China (SEZ). Similarly to neighboring Shenzhen, which became the first Special Economic Zone of China in 1978, the implementation of Zhuhai as an SEZ was largely due to its strategic position facing Macau, a capitalist trading center similar to Shenzhen's position with Hong Kong.
The establishment of Zhuhai as an SEZ allowed the Chinese Central Government and economy to have easier access to the Macau and consequently, global market. As a result, Zhuhai is now a major city in the Pearl River Delta region according to the new general urban plan approved by the State Council. The implementation of Special Economy Zone intended for the city to become a key port city, science and education city, scenic and tourism city, and as a regional hub for transportation.
The outstanding geographic location, a wide range of supporting infrastructure and a deep-water port serve as a major attraction for foreign capital. Utilized foreign investment reached US$10.344 billion in 2008. Among the top 500 enterprises worldwide, 19 of them have investment projects in Zhuhai such as ExxonMobil, BP, Siemens, Carrefour and Matsushita. Hong Kong is the largest overseas investor in Zhuhai, accounting for 22% of total utilized foreign investment in 2002.
Manufacturing industries
Industrial development in Zhuhai focuses on 5 new high-tech and heavy industries including electronics, computer software, biotechnology and pharmacy, machinery and equipment as well as petrochemical industries. Aiming to strengthen the existing industrial base as well as to provide a better environment for the development of new high-tech industries, the local government has taken the initiative in developing five economic zones:
As one of the 4 earliest Special Economic Zones (SEZs) in China, Zhuhai SEZ was set up in the year 1980 and granted with a local legislative right. Zhuhai hi-tech zone is located in the north of Zhuhai, which is very close to downtown. Furthermore, technological resources are centralized in our zone; there is also a huge development in hi-tech industries which is leading by software and IC industries. The hi-tech zone is the showcase for Zhuhai's scientific development.
Zhuhai Free Trade Zone (Zhuhai FTZ) was founded in 1996 with the State Council's approval, occupying 3 km2 (1.2 sq mi). A Zhuhai FTZ Administrative Committee was set up in June 1997. By the end of 2006, there had been over 200 companies registered in the Free Trade Zone, including more than 150 foreign-funded enterprises, and the total investment amount was 1 billion US dollars. Industries encouraged in the zone includes Electronics Assembly & Manufacturing, Telecommunications Equipment, Building/Construction Materials, Instruments & Industrial Equipment Production, Medical Equipment and Supplies, Raw Material Processing, Research and Development, Shipping/Warehousing/Logistics, Heavy Industry.
Harbour industrial zone (provincial level)

Wanshan ocean development testing zone (provincial level)

Hengqin economic development zone (provincial level)
Zhuhai manufactured and supplied 70% of the world's ribbons, 60% of the world's aftermarket inkjet cartridges and 20% of the world's third-party laser toner cartridges. Their combined sales were worth more than 1.3 billion US dollars or 10% of all the sales in the world. Zhuhai owns a comprehensive supply chain and almost any of the raw materials needed by the printer consumables industry can be provided locally.