Welcome A.Prof.Quirino Estrada from Universidad Autónoma de Ciudad Juárez of Mexico to be committee member!
日期:2018-10-31 点击量: 622次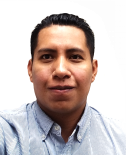 A.Prof.Quirino Estrada
Universidad Autónoma de Ciudad Juárez/ Engineering and Technology Institute,Mexico

Research Area:
Experimental and computational mechanics, finite element method and crashworthiness
Research experience:
Quirino Estrada obtained his Sc. D. Degree in Mechanical Engineering from National Center for Research and Technological Development in Mexico. During this time, he carried out a doctoral research stay in the Institute of Micromechanics and Photonics at Politechnika Warszawska, Poland. Currently Dr. Estrada is an associated professor since 2015 at Universidad Autónoma de Ciudad Juárez, Chihuahua, México. The researches of Dr. Estrada are focusing on finite element simulation applied to machines and mechanisms design, design of experimental setup including acquisition systems and implementation of sensors likewise agricultural robot design. Additionally, he is recognized in the field of crashworthiness because of the design of energy absorption systems for automotive, aircraft and rail systems. Nowadays, he has more than 20 publications in international journals and conferences, besides he has directed 5 thesis in Sc. D. and Sc. M. mechanical engineering programs. Finally, he is member of National System of Researchers belonging to Mexican Government and holder member of Mexican Society of Mechanical Engineering.
International recognition: Scientific committee member of International Conference of Computational Methods in Engineering Science – CMES'18, Poland, and reviewer of international mechanic, mechatronic and engineering journals and conferences.